Photocopying technology has come a long way since the invention of the first commercial photocopier, the Xerox 914, in 1959. Although 3D printers have become popular, the photocopier remains a crucial machine in modern offices and other sectors. In this article, we will explore how the photocopier transformed modern offices, the art sector, and the everyday life of machine users.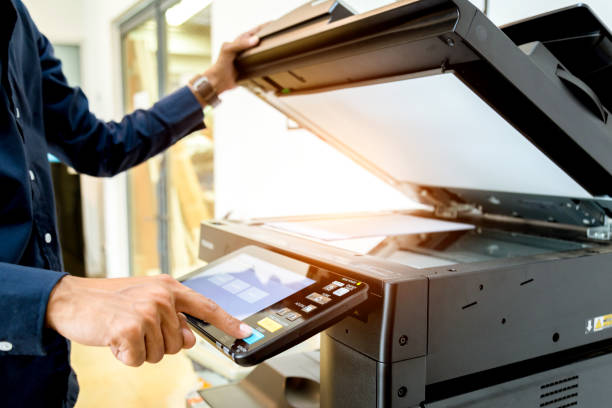 Xerox 914
The Xerox 914 was an easy-to-use commercial photocopier that produced copies through a dry, clean, and fast process. Unlike its predecessors, it had a rotating metal drum that created an electrostatic image of a document and transferred toner to a piece of paper. The copy would then be sealed in place by heat. The Xerox 914 was fast and could crank out a copy in only around seven seconds. Corporate users embraced the 914 machines and made billions of copies a year, transforming how information moved around that time.
Before the photocopier, only a few higher-ups would receive an important letter. The original letter would circulate from office to office, along with a routing slip that shows who had read it and where it should go next. The photocopier changed this process. Office departments began copying letters, memos, and white papers they felt everyone should see. In a way, the photocopier made information more accessible not only to officials but also to the other members of the company.
The rise of photocopying also impacted everyday life. Workers would sneak their personal items on the machine, producing copies of their party invitations, tax returns, and more. Chain letters began to become popular, too. People wouldn't only forward the letter but also send out 20 or more copies because they could!
Moreover, Xerox 914 users discovered they could create paper replicas of physical objects. They would place their hands and other objects on the copier glass. The police followed suit, too. Instead of manually typing and describing the contents of a suspect's pockets during arrest, they would just dump the contents on the copier glass and hit the copy button. That made the arrest process quicker and easier.
Artists also found a way to use the photocopier creatively. For instance, Pati Hill became famous for using a photocopier in her artistic practice. She enjoyed showing the aesthetic quality of photocopied prints. Her famous works included a photocopied hair curler that looked like a spaceship and a photocopied inside of a straw hat that resembled an image of a descent into a volcano. The Xerox machines have also helped the rise of zines, which are self-published print work typically produced in small limited batches. More artists could put their work out, even without having a contract with a traditional book or magazine publisher.
Today, photocopiers remain an essential machine in offices and other sectors. Apart from Xerox, other brands like Canon, Brother, Sharp, Kyocera, and Toshiba manufacture photocopiers that meet the needs of modern users. Most of them even integrate the copying function into multifunction printers, making copying more cost-efficient.
Even with the rise of paperless processes, offices and other businesses continue to use copiers. After all, not all their clients are paper-free. Plus, many of today's office photocopiers fully integrate with email, cloud, and other mobile services. More importantly, hard copies are still important as document backups. When digital technology fails, hard copies can save the day.
In conclusion, although 3D printers have become popular, photocopiers remain an essential machine in modern offices and other sectors. From the Xerox 914 to today's multifunction printers, the photocopier has transformed modern offices, the art sector, and the everyday life of machine
Contact Logic Office Equipments for Photocopier Repairs 
At Logic Office Equipments, we specialize in more than printer repairs; we also provide top-quality commercial photocopier repairs or multifunctional device maintenance. Our team understands your office equipment is essential for your day-to-day operations. So we provide same-day repairs if you call before 9 AM.