Description
Call/WhatsApp 0529 0559 68 or email info@logicequipments.com to discuss the Canon iPF line of high-speed plotter/printers. You simply won't find a better price on a new Canon iPF printer anywhere else!
We are now accepting trade-ins for Canon iPF printers – Call us today at 800 2569 to learn more!
PRINTER'S NOTE: The Canon imagePROGRAF 785 MFP offers more features than the Canon IPF785. The MFP (multifunction printer) version can scan-to-copy and make files quickly and easily with a touch-screen monitor, making it a cinch to archive maps, proofs, and posters. View more information on the Canon imagePROGRAF iPF785 MFP multifunction printer.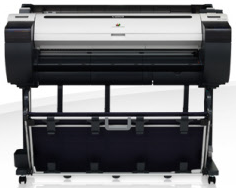 The Canon imagePROGRAF785 36-inch large format printer builds on Canon's award-winning line of 5-color printers. This is a world-class, high-performance plotter built for high-volume users. We recommend the iPF785 CAD printer's capacity to 5000 ft² per month. The iPF785 features an enhanced drawing stacker, a password protected interface lock and a 250GB hard drive with 32GB dedicated to printer memory. These new features add to the already impressive capabilities of this printer and make it an ideal solution for the print speed and precision requirements of the technical document market.
The Canon imagePROGRAF IPF 785 print speed (d-size sheets in 21 seconds), outstanding color and line accuracy, along with its new integrated print stacker are all features that put this workhorse of a plotter in a class of its own. We've been particularly impressed with the "edge to edge" full-bleed printing feature on the IPF 785. In fact, the entire Canon line of printers allows you to print full-bleed color prints right off the machine with no trimming needed.

Canon iPF785 vs Competition
The print stacker basket on the imagePROGRAF iPF785 is a great feature, making it possible to neatly stack up to 100 24×36 inch plain paper prints or 30×42 inch plain paper prints. The stacking option can be enabled or disabled depending on user preference. The Canon iPF 785 can hold paper and media on a 2-inch core or a 3-inch core. Users can print on 20lb bond paper roll up to a 36″ x 500′, meaning you can print 250 D-size sheets on a single roll and the integrated stacking solution makes it possible to stack 100+ "d-size" prints without worrying about a print pile up in the drawing basket!
Compare this to the competition: their plotters can only handle a 2-inch core media, which means the last prints off the roll always come out super "curly" and won't stack reliably. The print stacker and ability to run 500′ rolls on the IPF785 is a game changer in the marketplace. Finally, you can buy a fast, production rated plotter that stacks prints at an amazingly affordable price.
Another big CAD and GIS market advantage to the entire Canon iPF printer line is the ability to load 3-inch core media. Drawings printed from a 3-inch core media are considerably more resistant to print "curling" after the print is cut by the plotter. With the iPF785, users can stack D and E size drawings and prints much better than with any competitor inkjet plotter currently available.
The Canon iPF 785 is an ideal plotter for architects. The iPF785 is 36-inch wide to accommodate architectural E-size drawings, has the embedded hard drive for sending large design files directly from design software and full plan sets, and the offers the perfect blend of affordability, features, and heavy-duty production output.
We are pleased to report that Canon Support has been outstanding for us on the entire line of imagePROGRAF IPF printers. In the event a problem ever arises with a product, WAB Paper Supply will stand behind you and handle all the legwork and paperwork involved in contacting Canon for support or warranty service, if necessary. Because we are also a brick and mortar shop with trained technicians on staff and printers in our showroom, we offer the premier Canon imagePROGRAF iPF support in the United States and Canada.
imagePROGRAF iPF785 Large Format Plotter Uses
Designed for architectural printing, engineering plotting, GIS printing, and other high-end technical document production, the Canon 36″ imagePROGRAF iPF785 large format printer is a robust, high-performance print solution designed for medium to large workgroups and offices. With phenomenal line accuracy, a 250GB hard drive, and onboard support for HP-GL/2 and HP-RTL files, the Canon iPF785 is an ideal wide-format printer for any professional with a need for printing complex full-color renderings, CAD drawings, GIS maps, high-volume blueprints, high-volume plans, and other large-format graphics quickly, effortlessly, and with excellent detail.
An environmentally-conscious plotter design with fully front-accessible operations allows for outstanding ease-of-use and flush to wall installation in virtually any environment. From loading paper to navigating through the intuitive control panel, the Canon ImagePROGRAPH iPF785 simplifies large format printing. And with accounting functionality, a sub-ink tank system, and Gigabit Ethernet support, this printer achieves exceptionally high measures of productivity. Combined with its impressive speed, precision, and high-quality output, the Canon imagePROGRAF iPF785 CAD printer is the premier color plotting solution for high-end technical documents users.